January 5th, 2012 by adriene
This is one of my favorite cookies to eat. I used to make them with "standard" mini peanut butter cups and loved them that way. When I discovered Trader Joe's Dark Chocolate Peanut Butter Cups I realized that they were heading to The Next Level.
Preheat oven to 375°
Cream together until well blended:
(If by hand, cream butter first then add others. If in a mixer, just add them all to the bowl & mix on medium w/ flat beater)
1c softened butter
3/4c packed brown sugar
1/2c evaporated cane juice
1/2c peanut butter (creamy or chunky depending on preference)
Add and mix to combine:
1 egg
1t vanilla
In separate bowl, sift together:
2c sifted flour
1t baking soda
1/2t salt
Add drys to butter mixture slowly and mix until just blended. Refrigerate.
To create the surprises, start with refrigerated peanut butter cookie dough, parchment lined cookie tray & small, room temperature peanut butter cups.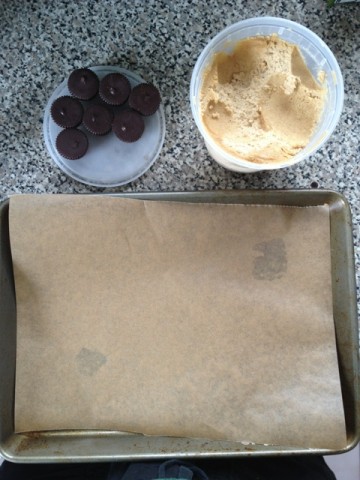 Sccop out one heaping tablespoon of dough.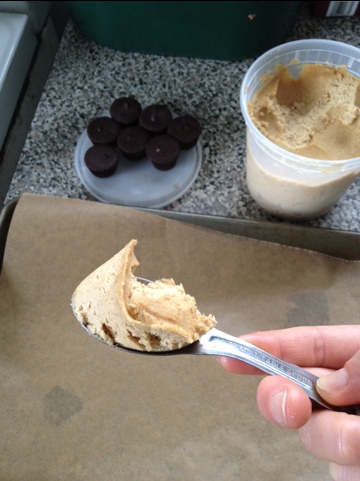 Press the peanut butter cup into the dough.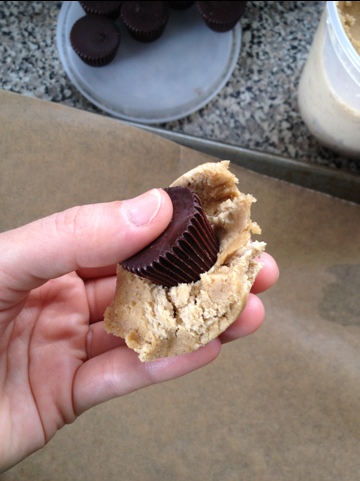 Shape the dough so it's thicker on top and bottom and even around the edges. Be sure to close it up completely, which may require a bit more cookie dough.

The dough balls should be consistently sized, spherical and spaced two inches apart.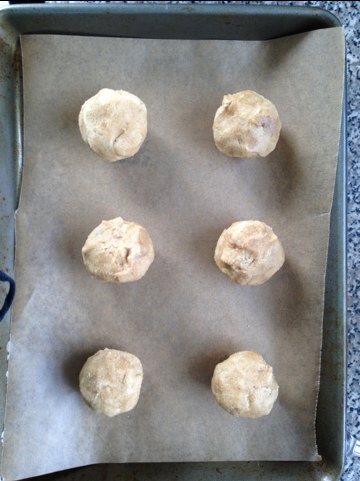 Bake until golden on the edges and high points. They'll be flat with a lumpy center hiding the melted peanut butter cup. Put the pan on the cooling rack and let them cool almost completely this way before transferring the cookies directly to the cooling rack. Otherwise, the melty peanut butter cup could squish out the bottom.

Shannon says these are great without the glaze so the last step is optional but I just love the extra chocolate.
In a bowl over boiling water (or a traditional double boiler) melt:
1t butter
1c chocolate (should match the chocolate of the cups – I use Trader Joe's Pound Plus 70% because I prefer bittersweet)
2T peanut butter (ideally, creamy, cuz it's a glaze but have at it!)
Stir to combine until the whole thing is a beautiful creamy consistency.
Now here's where some patience is required. After spreading about one teaspoon on each cookie while the glaze is fresh and warm, you have to let the glaze set for a few hours. How long you have to wait depends on environmental factors like temperature & moisture. You could also try drizzling in an arty way, should you be so inclined.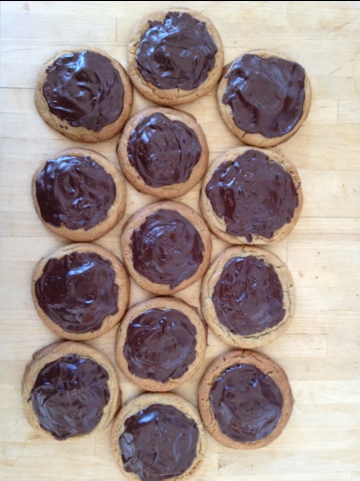 ENJOY!
This entry is filed under food. And tagged with recipe. You can follow any responses to this entry through RSS 2.0. You can leave a response, or trackback from your own site.